For families where boating or other water sports is 2nd nature, introducing our newest arrivals to the lifestyle can't come soon enough. But when is it too soon? Generally, a newborn is too early to bring out on a boat or other potentially dangerous scenario. But as the baby grows, and the days become warmer, many families start to look for activities to introduce their new bundles of joy to the joys of water. For those of us that want to ingrain the water lifestyle early, we want to also do it safely, and that's why we need to look for the best infant life jacket to protect them.
Read more in our series of the best life jackets for kids:
Breakdown of the best infant life jacket available
Let's take a look at the available best infant life jackets on the market and then go over the important features and what you should consider when choosing one. Here are our picks for the best infant life jacket:
Stearns Infant Classic Series Vest
Check Price On Amazon.com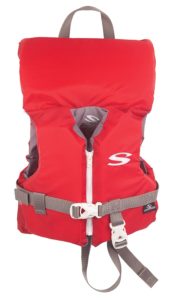 If you have been searching for the best life vest for infants, Stearns brings us a classic vest for your little one. Hence, this is an excellent life jacket to introduce your infant to the water. The vest comes in two colors to choose from: Red or Blue. Specifically, this model from Stears is designed for infants that weigh under 30 lbs. Additionally, it is U.S. Coast Guard approved.
As a result, you don't have to worry that your little one will be wearing an unsafe life vest. It is important to determine that the best life jacket for toddlers are U.S. Coast Guard approved.
Safety & Security
There is nothing more important to parents than keeping their infants safe. This is especially true when around the water. To ensure you are buying the best life vest for toddlers, keep safety as a top priority. As a matter of fact, this infant life jacket comes with adjustable straps. These straps are located on the chest and legs. This will give your infant a better, more comfortable fit. What makes this life jacket stand out is the inclusion of a rescue handle.
This way, adults can move their infant with ease in and out of the water. In any case, introducing little swimmers to the water is made easier with this infant life jacket.
Pros
U.S. Coast Guard Approved
Rescue Handle/Strap
Affordable Price
Multiple points of adjustments
Cons
The fit may not be just right if your infant is smaller than average
O'Neill Wake Waterski Infant USCG Vest
Check Price On Amazon.com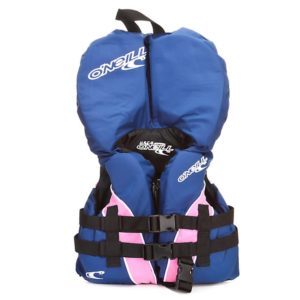 Your infant demands optimum safety while in the waters. Accordingly, the O'Neill Company has gone ahead to develop this high-quality life vest for infants. It's ideal for infants weighing 30lbs or less.  The overall construction quality impressed us quite a bit.
The O'Neill Wake Waterski Infant Vest is USCG certified and comes with a rigid head support panel with a constant loop.  We also love its variable safety belt fitted between its legs for improved infant safety.
Especially relevant, this option boasts a lightweight fluid foam neoprene top covering that's water and sink resistant, thereby guaranteeing further your infant's security during you afternoon family affairs in the deep lake waters. The quick release dual safety buckles make it easy to put on and take off.
For those who want a little fashion to go with safety, the O'Neill Wake Waterski Infant Vest is available in various color options including a blend of navy/pink/white, pink/white, as well as yellow/blue/grey.
The quality and performance of this life vest is impressive. In short, we highly recommend this best infant life jacket.
Pros
Provides ultra-safety for infants
Ultra-durable construction with nylon panels
US coast guard approved life jacket for infants
Cons
Some reports of being bulky
Full Throttle Infant Baby-Safe Vest
Check Price On Amazon.com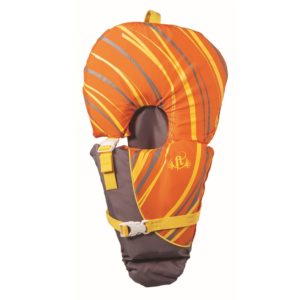 Whenever you are looking for a high-quality infant life vest, then the Full Throttle Infant Baby-Safe Vest will always be an option. We've included it in our list due to its superior construction and ability to keep an infant safe.
In any case, designed for infants up to 30lbs. Not to mention, the Full Throttle best infant life jacket's patented design includes an elasticized leg strap, and unique collar design which offers excellent head support.  Equally important, the quick-release buckles make it easy to put on and take off your infant or newborn.
The materials used in the construction of the Full Throttle Infant Baby-Safe Vest include 150 denier poly-twill and 200 denier nylon. When searching for the best infant life jacket, these are materials that offer long lasting durability. The lightweight, long-lasting flotation foam in this infant life vest provides your little one with optimum water security and safety.
Additionally, this baby life jacket carries a US coast guards Type II rating. Therefore, you'll have confidence and trust in its quality and performance.
Finally, this life vest is available in two color options: pink and orange.
Pros
Ultra-affordable
Lightweight for smooth and balanced infant mobility
USCG approved type II baby life jacket
Suitable for infants weighing 30 lbs or less
Cons
Reported to be bulky on some infants
Few reported the vest was too hot
Stohlquist Infant Personal Floatation Device
Check Price On Amazon.com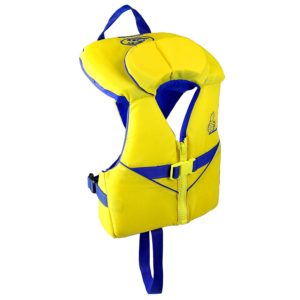 Stohlquist is the proud manufacturer behind the design and development of this high-quality best infant life jacket.  Above all, it's a high-grade life vest designed for infants weighing between 8-30 lbs.  Right from first glance, we could tell that this is a unit designed for nothing but offering infants optimum security whenever you set out to enjoy the cool breeze on the water. This baby life jacket is USCG approved as a type II PFD infant life vest.
We were impressed by its overall sea level buoyancy of 7 lbs. 6oz. Convenience is enhanced further by the featured quick release buckle that's fitted over the zipper as a backup.
In case your infant is fussy and doesn't want to be too constricted, you could just use the buckle. We wouldn't normally recommend that because the zipper helps keep the baby life jacket snug to the body which is much better when in the water. Another important factor in your search for the best infant life jacket.
Attention to Detail
Additionally, an adjustable crotch strap ensures a perfect fit with minimal effort. We've not mentioned the importance of crotch straps but for young kids and infants, this is a very important safety feature. Indeed, the crotch strap prevents the jacket from riding up, or worse, completely slipping off your baby. You wouldn't want that to happen if they're swimming or happen to fall in the water. Why even have a baby life jacket!
The featured grab handle helps in pulling your infant out of the water quickly, or simply just carrying them from one spot to another.
The 200 denier, oxford liner, and shell featured in this unit guarantee not only its performance but also its durability.
The Stohlquist Infant Personal Floatation Device is available in a various color combination options including blue and black, red and yellow, and yellow and blue.
Ideally, this is an infant life device that will serve you with no disappointment whatsoever. Obviously, it's worth buying.
Pros
High-grade construction
Ultra-convenient and safe
Highly mobile; convenient grab handle
US Coast approved Type II PFD
Cons
Careful with its front zipper to avoid chafing your baby
Some reported that it will not turn infant face-up
Stearns Infant Puddle Jumper Hydroprene Fish Print Life Jacket
Check Price On Amazon.com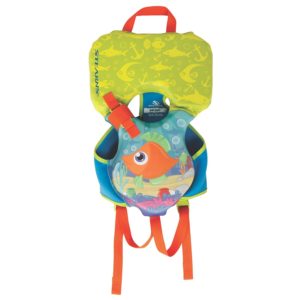 While the Stearns Infant puddle jumper baby life jacket may look more like a toy, do not doubt its performance. First, this infant life jacket is US Coast Guard-approved. Second, it has oversized head support to encourage face-up flotation. Can we say that it is definitively the best infant life jacket? It's pretty close that's for sure.
It's made of ultra-durable cross-tech flotation foam covered by a soft and water-resistant hydropene shell. With the aim of guaranteeing your infants' security while in the water, there is a grab handle and adjustable leg straps on this life jacket.
What's more, we love its oversized head support that encourages face-up flotation.
If your infant weighs 30Lbs or less, then this is the life jacket to purchase. Your little one is bound to fall for the animated finish of this life jacket. Therefore, he/she won't create any trouble whenever you need to fit your infant with this life jacket.
To conclude, it's available in two color options: green and pink.
Pros
US Coast Guard-approved life jacket
Oversized head support facilitates face-up floatation
Ultra-durable construction
Leg straps provide extra-security and child safety
Cons
Though comfortable, this life jacket is quite bulky
Neck opening reported to be small and tight in some cases
Full Throttle Infant/Child Nylon Vest
Check Price On Amazon.com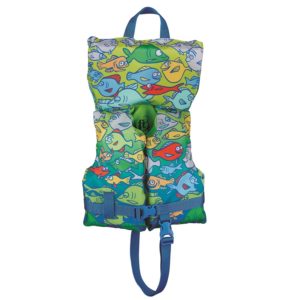 Full Throttle continues to supply high-grade life devices on the market giving this one a spot on the best infant life jacket top list. This is just another unit that affirms their dedication to quality and consumer satisfaction. The quality of their products results in high approval ratings by consumers.
This life jacket is US Coast Guard certified as a Type II PFD.  As a matter of fact, if you want to learn more, read our other post about the various USCG life jacket types.
The Full Throttle infant life vest is made for infants weighing 50lbs or less. The featured leg strap is there to maintain the jacket in position without shifting or riding up. What's more, there's a pop-up pillow on this life vest that provides improved head support and also added safety to the infant by facilitating face-up floatation.
The featured grab strap is great whenever quick recovery of your little one is necessary.
Kid Friendly Designs
Most "safety" gear tends to be boring, with design an afterthought. Not for this Full Throttle baby life jacket! It comes in different colors and designs so that your infant is not only safe but also looks like a kid. There is a fish design, a mermaid design and of course a plain orange design. We may not like the plain orange design but if you're just focused on safety, go ahead and grab the orange one!
Pros
USCG approved type II PFD life vest
Pop-up pillow for optimum head support and face-up floatation
Grab strap for quick recovery in case of emergency
Leg straps for a firm fit with no shifting
Kid-Friendly design choices
Cons
Small neck hole for some
May not be best suited for kids near top limit of 50lbs
Stearns 2000013889 PFD 5402 Hydro Infant life vest
Check Price On Amazon.com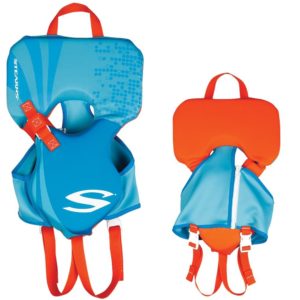 This is another baby life jacket by the reputable Stearns Company. Stearns has a few jackets that we can call the best infant life jacket. Obvious from its appearance, you can tell that this is an infant life vest designed for safety and security.
It's constructed from high-grade materials guaranteeing its performance and durability. We were impressed by the water-resistant hydropene shell as well as the high buoyancy, durable foam.
The Stearns 2000013889 PFD 5402 Hydro Infant life vest is USCG approved Type II best infant life jacket. Notably, it is meant for babies up to 30 pounds. All the required safety features are present: crotch strap, USCG rating, and neck support. Additionally, the quick release buckles mean fast putting on and taking off. This is great as kids have little patience and want to get to their water fun.
Pros
High-grade construction
Ultra-durable
High-buoyancy durable foam
US coast guard approved
Cons
Neck area may be tight on larger infants
Zippered back could be uncomfortable for some
Body Glove Paddle Pals Learn to Swim Life Jacket
Check Price On Amazon.com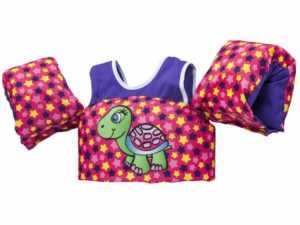 If you desire to see your little one training to swim, then considering this life jacket by the Body Glove Aquatic Company is a wise decision. We love its professional design and construction.
This learn-to-swim best infant life jacket is USCG rated as a Type III. The attached paddle pals arm bands will help your infant learn to swim as fast as possible. Even so, a Type III device will not turn the head up, so keep that in mind.
In addition, we were impressed by the featured safety shoulder harness in this unit. With the safety shoulder harness, you can be confident that the life jacket will never slide off accidentally.
The superior construction of this life jacket makes it ultra-comfortable. In fact, it's made of high-grade and ultra-durable polyester material and incorporates a multi-panel design for that superior comfort.
Body Glove's learn to swim life jacket is meant for use with children weighing 30-50lbs. It's bound to fit correctly and comfortably on children within this weight limits thanks to the variable chest strap and quick release safety buckle at its rear end.
Probably, your little one will fall for the unique graphic designs in the Body Glove Paddle Pals Learn to Swim Life Jacket. Kids always love designs and different characters, and now you can take that to the pool or beach. Whether your child lives ladybugs, dinosaurs, mermaids or monsters, there's an option for all. In fact, we thought these designs were a great bonus to an already well designed product.
Pros
US coast guard approved for recreational boating
Paddle pals help infants learn to swim fast
Ultra-safe with safety shoulder harness
Ideal for infants weighing 30-50 lbs.
Cons
Snug fit on kids weighing close to 50lbs.
Full Throttle Child Water Buddies Life Vest
Check Price On Amazon.com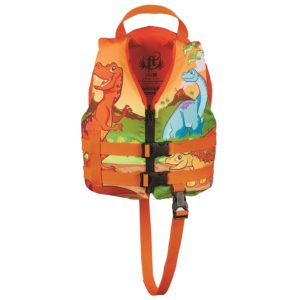 Full Throttle is a highly approved brand by consumers across the globe, and you can tell that their life jackets offer nothing short of optimum water safety.
Your little one will begin to develop a love for the water right from the early stages thanks to the superior safety and comfort that comes with the Full Throttle Child Water Buddies Life Vest. Since we're all about introducing our new family members to the exciting world of water life, you have to provide them with the right safety gear.
Accordingly, water buddies is a US coast guard approved type III PFD life vest. You won't find this vest riding up or down thanks to the featured zipper belt on its front side and a leg strap at its bottom.
Furthermore, the water buddies infant life vest is rated for children between 30-50lbs.
In conclusion, you will be happy to find out that this life vest is available in various graphic options including astronaut, dinosaur, ladybug, princess, and turtle. Go for the graphic design that suits your little one's preferences and they'll be happy to wear it without complaining.
Pros
USCG approved type III PFD life vest
The friendly imaginative characters on its material make it ideal for infants
Does not ride up thanks to the leg strap and sturdy zipper
Ultra-durable
Cons
Remember USCG Type III is not meant to turn children face-up
Speedo Infant Personal Life Jacket
Check Price On Amazon.com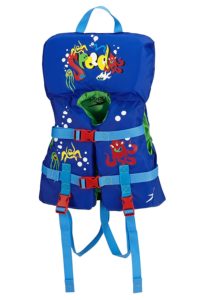 Want your baby to get comfortable around the water this year? Check out the Speedo infant life jacket for it's comfortable fit and stylish design. In particular, safety is guaranteed with its USCG Type II rating. Additionally, the special neck pillow provides good support for the infant to keep their head out of the water.
This baby life jacket features buckles for quick and easy release. The straps are adjustable for a comfortable fit and it features leg straps to prevent it from riding up and over the head. In addition, the collar handle allows you to grab and retrieve your child from the water very quickly.
Especially relevant, is that Speedo designed this model for infants with a chest size 16 to 20 inches and a maximum weight of 30 pounds. This is the perfect vest to bring your child on the boat with and introduce them to the boating lifestyle.
Equally important, this baby life jacket comes in two great color combinations. There is the pictured blue with a cool underwater design featuring some sea life. On the other hand, more for girls, is the berry color with a butterfly print design. Both look great and guarantee that your infant will want to wear this vest while in or near the water.
Pros
USCG approved type II infant life jacket
Neck support
Adjustable straps
Quick-release buckles
Cons
Top buckle may be too high for larger infants
Quick Best Infant Life Jacket Comparison Chart
Summary of Infant Life Jackets
As adults and parents we want the best protection for our babies from the start, but we also want to enjoy life on the water. In order to strike a balance between avoiding danger or being reckless, we must choose the best infant life jacket we can find for our babies. Being a responsible adult means providing a safe environment while introducing our newest family members to the activities we love.
But being responsible doesn't mean we need to be boring! As you read above, many of the infant and baby life jackets come in great colors as well as kid-approved designs. Children gravitate towards fun characters, and they're not looking at the safety features. As parents and guardians, we can rest easily knowing that our kids are getting the fun design to wear around the water, but we're getting the safety features.
Final Thoughts
When looking for the best infant life vest, make sure you know the activities you'll be introducing your child to, as well as the various specifications of the life vest you ultimately choose. Always look for USCG approved certification on the tags, as that is the only way to tell that it is approved.
Of course, as our kids grow, the safety equipment requirements will also change. Soon you'll be looking for a toddler life jacket, or one day you wake up and they've turned into a youth and you'll need youth life jacket for them! Finally, time flies, and it's best we enjoy it on the water right from the start.