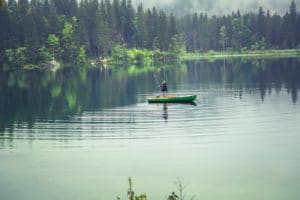 When you're out on the open water and enjoying a nice day fishing, you want to make sure you're comfortable. Choosing the best inflatable life vest for fishing is key to making sure you have a great adventure. There are many different types of life vests on the market but choosing one that is inflatable could give you that much needed edge.
Why Would I Choose An Inflatable Life Vest?
The question of why you would choose an inflatable vest comes down to a matter of personal choice. Inflatable life vests are far less cumbersome than regular life vests. You may not even feel like you are wearing a life vest for fishing.
Types Of Best Inflatable Life Vest For Fishing
When you get to choosing the type of vest that best suits you, you will come down to two choices. You can choose a self inflating or manual inflating life vest. The difference between the two is that the self inflating vest will automatically inflate itself when it is under water. As for the manual inflating vest, you have to pull a cord for it to inflate. There are also other personal floatation devices that you have to inflate orally.
Where Will You Be Fishing?
It is important to know where you will be fishing before choosing the right type of inflatable life vest. Are you heading out on open ocean or sea waters? Perhaps you are just sticking to lakes and rivers? There are various types of personal floatation devices that are more suitable for the type of water you will be on. Check our other articles about types of life vests for more information. If you're heading out for some kayak fishing, check out our dedicated article on life jackets for kayak fishing.
Let's get on to the best inflatable life vest for fishing picks!
1. ABSOLUTE OUTDOOR Onyx A/M-24 Automatic/Manual Inflatable Life Jacket
Check Price On Amazon.com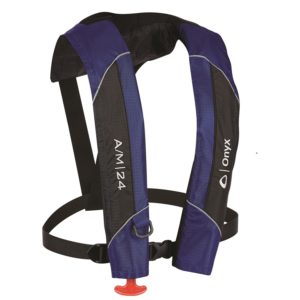 First of all, Absolute Outdoor has created one of the most popular PFD's in the best life vest for fishing category. The Onyx A/M-24 has the ability to be both automatic and manually inflated. This life vest is approved by the U.S. Coast Guard and rated as a type V, but has type III performance.
If you're on the water and casting your rod you want to ensure your flexibilty isn't hindered. The Onyx is designed to be lightweight and slender — so your arms won't be halted. You likely wouldn't even notice you're wearing it.
Peace Of Mind
Wearing a bulky life vest while fishing can become a nuissance. The water isn't a place where you want to take a chance with safety either. The Onyx is designed with comfort in mind, but doesn't take any chances with safety. Therefore, the beauty about self inflating life vests is that you can barely notice when you're wearing them. If an unfortunate situation does come about, you can rely on the vest to keep you safe as it self inflates when hitting the water.
Pros
U.S. Coast Guard Approved
Light, comfortable and doesn't get in the way
Great for warm weather; keeps you cool
Can convert from auto/manual setting to only manual
Cons
Not recommended for people under 16 years old and/or non-swimmers
2. Onyx M-16 Belt Pack Manual Inflatable Life Jacket for Stand Up Paddle Boarding, Kayaking and Fishing
Check Price On Amazon.com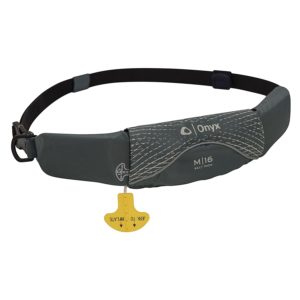 Another great life vest coming from Onyx is the M-16 belt pack. This isn't technically a life "vest" but it does fall under the category of life preserver. First off, the preserver is actually just a belt that sits around your waist. This can be a pro or con depending on who you talk to. We wanted to include this life vest in our top picks because of the sheer freedom of movement it provides.
Freedom And Flexibility
We all know that when we're fishing, the last thing we want on our minds is the comfort of your life vest. The Onyx M-16 provides you with exactly that sort of flexibility. When you're casting out this life vest/belt will definitely not get in the way. Furthermore, the Onyx M-16 is Coast Guard approved Type V. That is an important factor when you're out selecting the best inflatable life vest for fishing.
Features And Specifications
The Onyx M-16 Belt Pack life vest is a lightweight product. It comes with a CO2 cartridge which is a nice bonus. The CO2 charge give you 17 lbs of buoyancy. Additionally, there is a manual orally inflatable tube that you can use to give you additional buoyancy up to 26.5 lbs. What really makes this vest stand out is that it does not in any way compromise your movement when fishing. Finally, since this is a belt preserver, you don't have to worry about those hot sunny days with a thick life preserver around your torso. You will stay nice and cool wearing this belt!
Pros
U.S. Coast Guard Approved
Belt design doesn't compromise your movement
Very low profile design
Buoyancy up to 26.5 lbs
Cons
Minimum body weight requirement 80 lbs
3. Mustang Survival Corp M.I.T. 100 Auto Activation PFD
Check Price On Amazon.com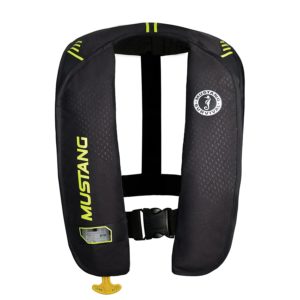 The mother of all the best inflatable life vest for fishing! Mustang Survival brings us the M.I.T. 100 automatic inflating personal flotation device. This life vest is for the serious fisherman that makes safety a priority. If you're fishing in some poor weather or hard to reach locations, the M.I.T. 100 could be built for you.
Built To Last
Coast Guard approved for a type III personal and type V commercial use life vest. Furthermore, this life vest does not disappoint on features and specs. Mustang Survival didn't compromise on the materials for this life vest. This vest is made with 500-denier cordura on the outer shell. This gives you years of use.
Automatic or Manual Inflation
Secondly, the auto inflating version of this life vest will kick in within 10 seconds of being immersed in water. Comparing this life vest to others on the market, the M.I.T. 100 gives you about 1.5x more buoyancy than the competitors. Alternatively, you can pull the bright yellow tab to fully inflate the life vest as well. Lastly, this only takes 5 seconds to be fully inflated.
Pros
Outer shell made from 500 Denier Cordura
Coast Guard approved
26 lbs of buoyancy
Auto inflating
Cons
On the pricier side of the spectrum
4. Eyson Slim Inflatable PFD Life Jacket Life Vest Adult Automatic/Manual
Check Price On Amazon.com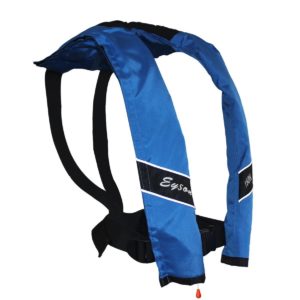 If you're not looking to spend too much money and aren't concerned with having the best inflatable life vest for fishing on the market, then the Eyson may be for you. Eyson is a manufacturer from China but they do provide decent quality life vests and the price is pretty affordable. The company is renowned for their customer service. We want to stress that this life vest is NOT approved by the Coast Guard though.
Decent Feature Set
Unfortunately the life vest is not Coast Guard approved but they seem to add features to give you some peace of mind. Additionally, the vest is CE certified. What's included are reflectors for visibility. The maximum weight capacity for this vest is 330lbs which is quite surprising considering the price point. Eyson even included a whistle for your convenience.
Finally, to activate the life vest you have to pull the inflation cord. It also automatically inflates when hitting the water.
Pros
Affordable Price Point
Lightweight, slim design
330lb weight capacity
Reflectors
5. Stearns Boating Stole with Realtree Max-4
Check Price On Amazon.com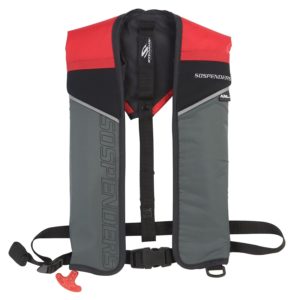 Stearns brings us an excellent quality best inflatable life vest for fishing at a competetive price. First off, this life vest is approved by the Coast Guard. The vest rests comfortably over your shoulders as you enjoy fishing in the open water. The Stearns Boating stole has an automatic inflation feature. It is activated as soon as it is submerged in water. Additionally, you can manually inflate this life vest by pulling the cord attached to the bottom of the vest. What set's this life vest apart is the open back design. Secondly, having an open back opens your arms for the freedom of movement. Get ready to start reeling in your catch more comforably and effortlessly than ever before. You won't even know you're wearing this life vest.
Bonus Features
Reflective and orange accents provide extra safety on the Stearns life vest. Furthermore, this keeps your visibility high. Coming in at a weight of only 1.7 lbs, you won't feel like you're carrying an extra load on your shoulders. So, stay cool and stay flexible this season with the Stearns Boating Stole Max-4 life vest. Finally, the Stearns life vest gives you a very competetive 22.5 lbs of buoyancy. Stay safe on the water this season with a Stearns Coast Guard approved life vest.
Pros
Coast Guard Approved
Automatic inflation when submerged in water
Universal size (30-52″ chest)
Cons
Slightly more expensive than the competition
Conclusion About The Best Inflatable Life Vest For Fishing
Finally, when you're on the hunt for the best inflatable life vest for fishing, you will come across many options. We have taken the time to compile 5 of some of the most popular inflatable life vests on the market today. Whether you are fishing in the open seas, ocean, lakes, rivers or ponds, having a good life vest is important. Furthermore, fisherman don't want to compromise comfort and flexibility to wear a bulky life vest. An inflatable life vest is an excellent choice for seasoned or  beginner fisherman. Stay safe on the water and never take your safety for granted! Always wear a life vest and consider an inflatable one if the regular ones are not suitable for you.